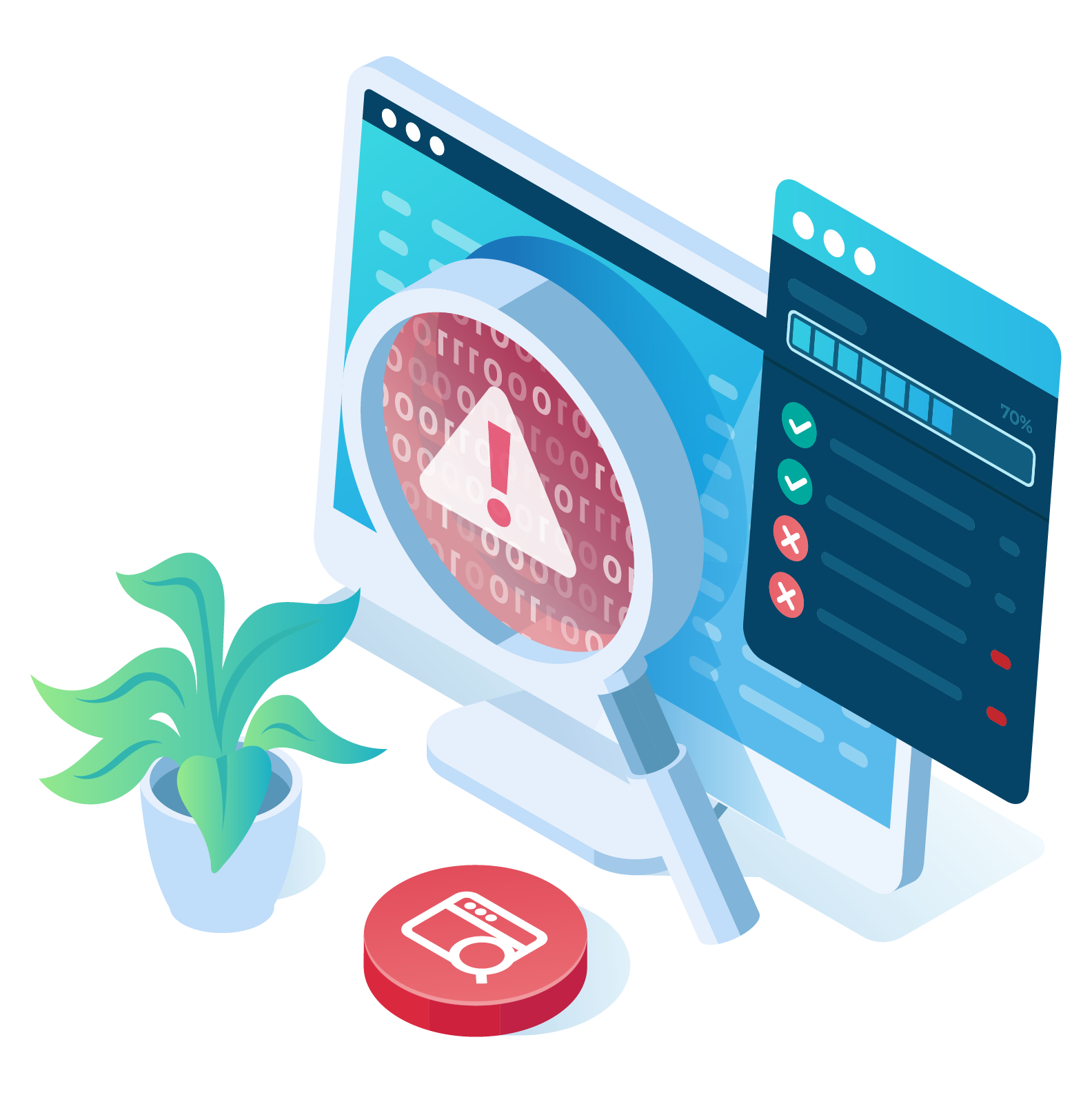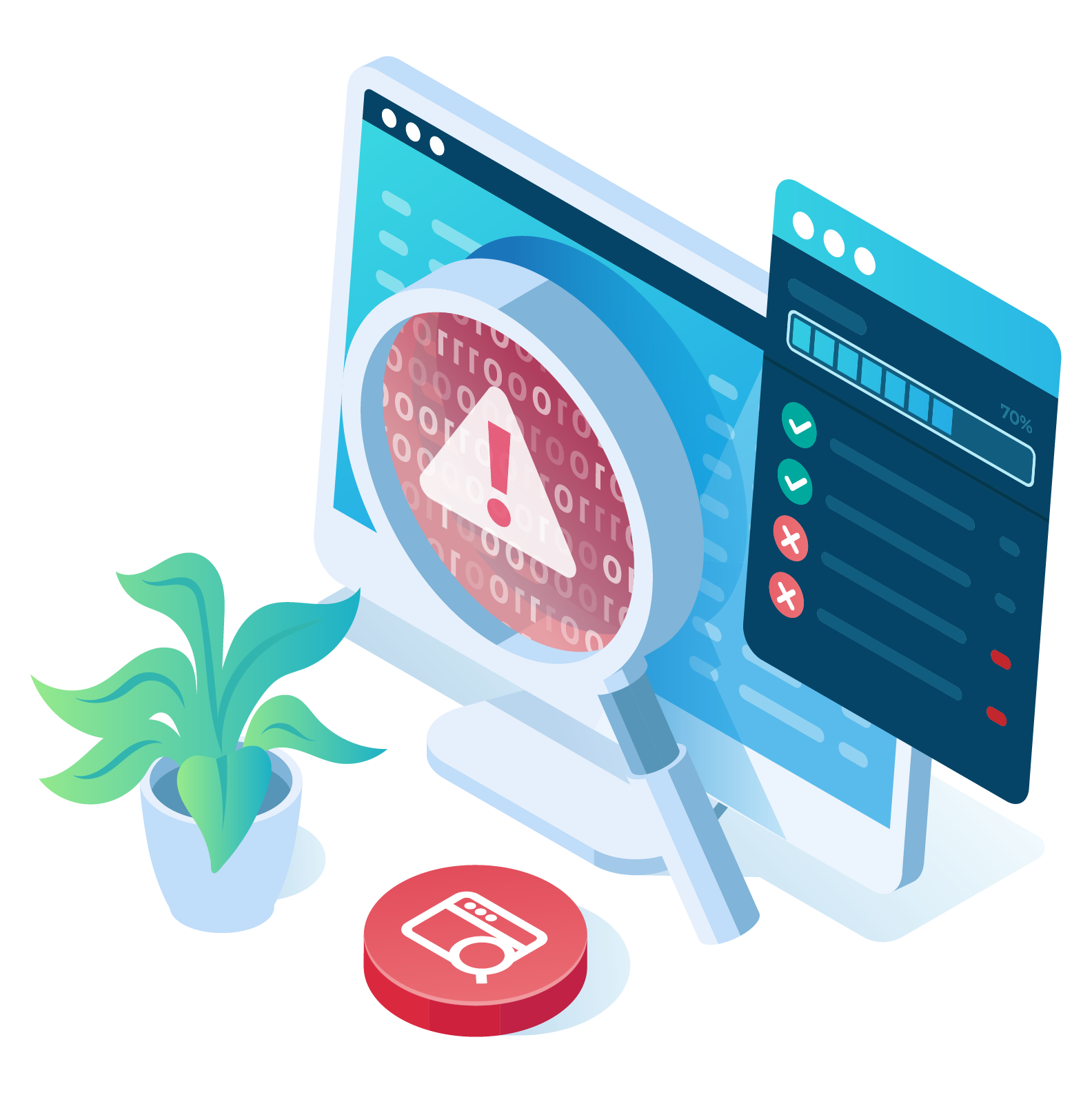 Uncover hidden security flaws fast
Find and flag all known security weaknesses in your apps and infrastructure with the advanced Vulnerability Scanning engine in Defense.com™.
Automatically prioritizes results to help you easily manage your cyber risks
Scan on your own schedule with flexible, customizable scan groups
Identify assets at risk of attack so you can proactively protect them
Find the latest vulnerabilities
Our powerful Vulnerability Scanning software is always up-to-date with new vulnerabilities, so you never miss a security flaw in your apps and infrastructure.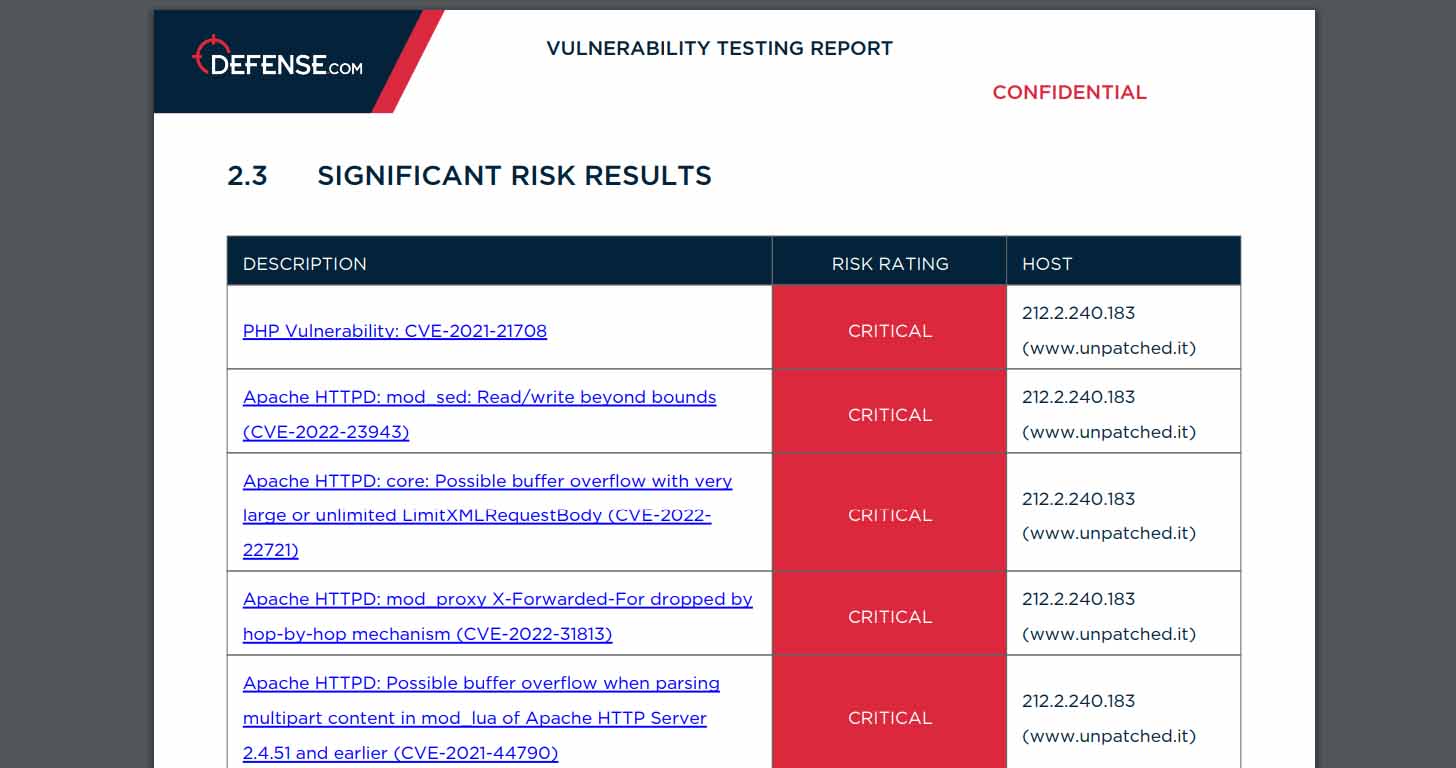 Easily manage cyber threats
A VA scanning tool is only as good as the report it generates, so ours are easy to read and packed with actionable info. Any threats are automatically prioritized and added to your Threat Dashboard.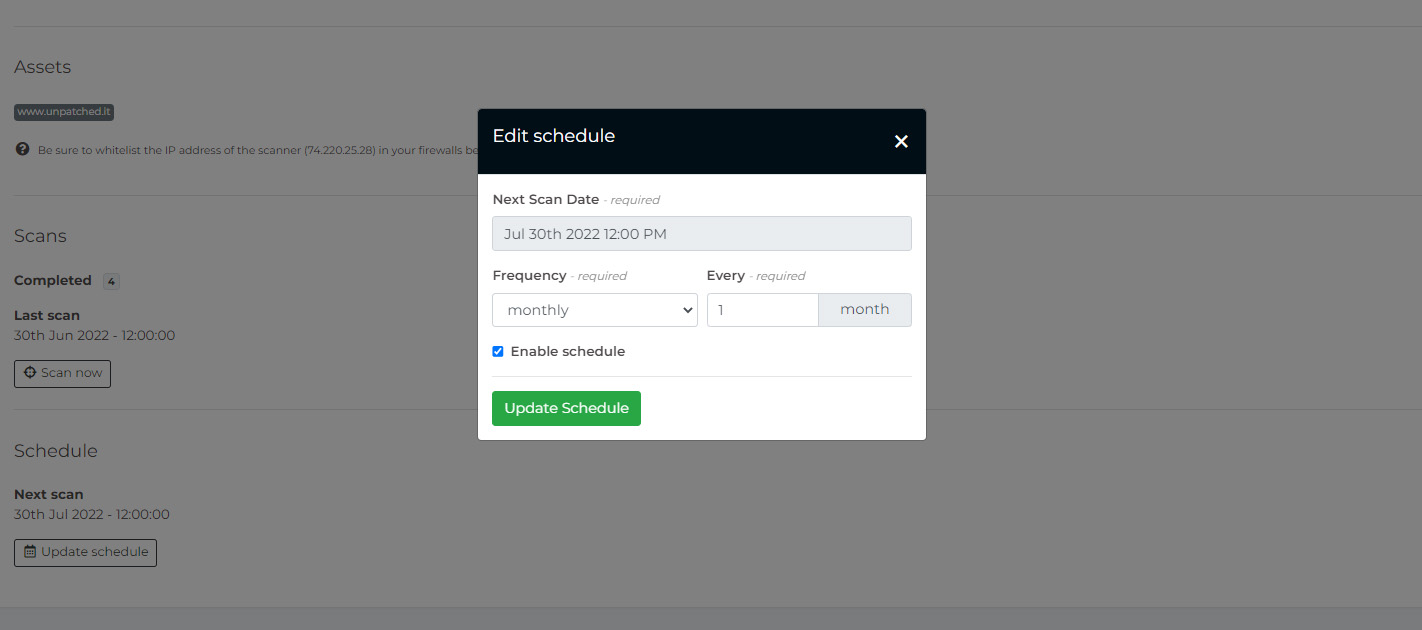 Understand your threat landscape
New exploits are discovered every day, so our flexible scheduling makes running custom VA scans a breeze. Scan on your own schedule and stay ahead of current and emerging threats.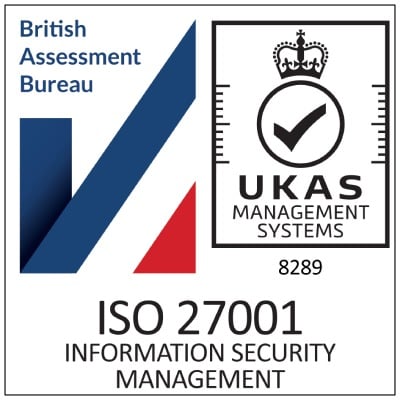 Meet compliance obligations
Vulnerability scans are either recommended or required by ISO 27001, the GDPR and PCI DSS. Stay compliant with our powerful, easy-to-use vulnerability scanning service.
Save costs, protect your business
Vulnerability scanning, also called VA scanning, is an essential component of any security strategy that makes a big impact to your cyber defenses.
Automatically list and prioritize all known security flaws in your systems
Help your business defend against exploits used by hackers
Insightful reports show vulnerabilities, remediations, CVSS scores and a severity rating
Quick and easy scheduling means low management overhead
Meet your ISO 27001, GDPR, Cyber Essentials Plus and PCI DSS requirements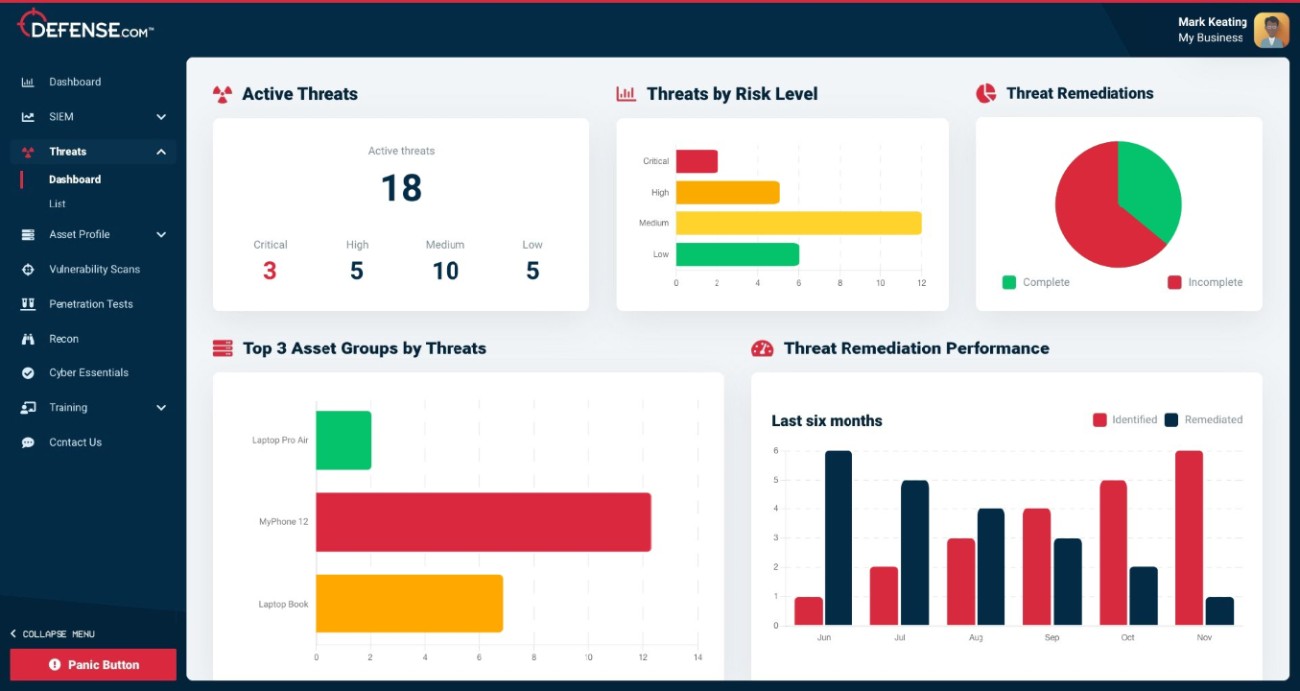 Try Defense.com
™

for free

Find your security vulnerabilities right now with a free trial of Defense.com™. Track your threats and prioritize remediations with an all-in-one cybersecurity platform.
Here's what our customers say about us
Protecting the world's leading brands

Vulnerability scanning FAQs
Vulnerability scanning, also called VA scanning, is where an automated system scans your apps and infrastructure for publicly disclosed security vulnerabilities, such as the CVE database. If the vulnerability scan detects that your systems are missing patches or remediations for these vulnerabilities, it's highlighted in the report. This makes vulnerability scanning a quick and easy way to stay ahead of the hackers and proactively patch security flaws.
Best practices generally recommend monthly VA scans, or when new application and infrastructure components are added or significantly changed. However, this won't apply to all business across the board. For some organizations, more regular vulnerability scanning is required. The exact frequency depends on your business' security strategy and cyber risk appetite. Since the Vulnerability Scanning tool in Defense.com™ is quick and easy to use, you could scan at increased frequencies, such as weekly or even daily.
Vulnerability scanning is a fast and easy way to get an at-a-glance overview of your missing security patches. Since these kind of exploits are the ones most frequently used by hackers, it pays to keep your apps and infrastructure up-to-date with missing security patches so you can stop hacks and data breaches before they start. Without running regular VA scans, you probably won't know what security updates are missing for all the many and varied hardware and software that your business uses.
Vulnerability scanning is how you track your missing security patches and remediations to known security flaws. VA scans are used as a fundamental component of your ongoing security strategy and can be used to take the temperature of your security posture.
Vulnerability scanning is an automated assessment that enumerates your apps and infrastructure for known security vulnerabilities. Penetration testing is more like a simulated, ethical hack, where a security researcher uses their experience and insight to exploit flaws and misconfigurations in an attempt to compromise systems.
Penetration testing is usually conducted annually. Since new security flaws are found on a regular basis, scheduling vulnerability scans more frequently can help you keep on top of your security by making sure your systems are protected against the latest threats.
Free vulnerability scanning software is available to download and use from a variety of places, however not all scans are equal. Free vulnerability scanning engines might not be kept up-to-date, and generally require a lot of upfront investment in time and expertise to be correctly configured. If a vulnerability scanning tool isn't set-up right, the report it produces won't be of much use to you. Defense.com™'s vulnerability scans are very affordable, and we've done the heavy lifting of configuration for you. All you need to do is schedule a scan and watch the results populate on your Threat Dashboard.