Protect your devices with Defense.com EDR
Simple deployment
Safeguard your Windows, MacOS and Linux devices with an easy-to-install, low overhead agent.
Detect threats
Identify suspicious activity and advanced cyber threats in real-time with continuous endpoint monitoring.
Rapid response
Remotely isolate compromised devices and get clear, step-by-step remediation advice to fix issues fast.
Prevent breaches
Protect your business with advanced endpoint protection features, including device blocking and content control.
---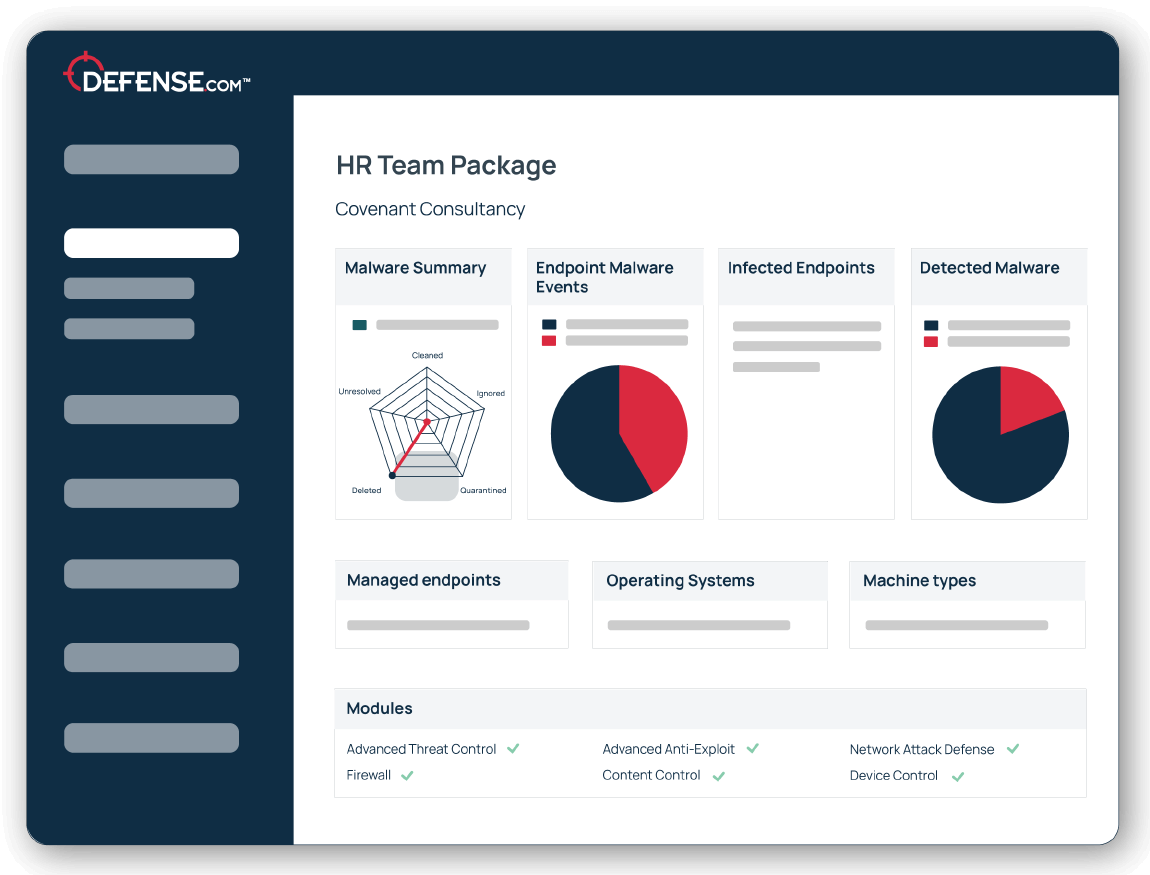 Powerful threat detection
Defense.com EDR proactively discovers threats in real-time. Stay protected against advanced threats including fileless attacks, ransomware and zero-day exploits.
Your endpoints will be continuously monitored for specific indicators of compromise (IoCs), MITRE ATT&CK techniques, and other artifacts to discover early-stage attacks.
Fast and simple deployment
Easily deploy lightweight agents to your Windows, MacOS and Linux devices via remote or manual installation.
Choose from a range of advanced modules to keep your endpoints secure. Create and deploy custom packages for users or teams that require different security controls.
Respond to cyber threats
Get alerted to new threats in your Defense.com account, which are sorted based on priority. You'll also get step-by-step remediation advice to help you respond and fix issues fast.
Quickly stop attacks by isolating affected devices from the network, limiting lateral movement. You can also remotely scan endpoints at any time for further analysis.
---
Our EDR software capabilities
Available features
Protection
Anti-malware
Advanced threat control
Endpoint isolation
Fileless attack protection
Advanced anti-exploit
Ransomware mitigation
Firewall
Content control
Network attack defense
Device control
Full disk encryption
Security for Exchange
Patch management
Operation
Relay role
Graphical User Interface (GUI)
Command Line Interface (CLI)
Uninstall password
Some functionality may not be available on all operating systems or devices.
Supported systems
Windows
Linux
MacOS
Managed Detection and Response
Modern cyber threats extend past endpoints and can target any area of your environment. This can be difficult to manage if you don't have the resources to properly manage your EDR deployment.
That's where Managed Detection and Response (MDR) can help. Our fully managed service alleviates the pressure on your IT team and provides 24/7 security coverage, so you can focus on other business critical tasks.
Learn more about MDR
Learn more about Defense.com EDR
Detect and respond to advanced threats with Defense.com EDR. Book a demo to see our EDR tools in action and find out how you can increase your cyber resilience.
Here's what our customers say about us
Protecting the world's leading brands

Frequently Asked Questions
Endpoint detection and response (EDR) is a security technology that manages risk by providing visibility on activity through monitoring all traffic in and out of endpoint devices. EDR solutions help to identify potential threats as soon as possible, react quickly, and stop the attack before it can cause any damage.
Choosing the best EDR solution for your business will depend on a number of factors. You should look for an EDR tool that contains all the usual features of next-generation anti-virus (NGAV) and endpoint protection (EPP) but with the added functionality to proactively respond to security events.
Endpoint security was previously known as anti-virus software, but modern endpoint protection systems go beyond simple anti-virus and include advanced security features, as well as integrating with other solutions such as SIEM.
A managed SIEM service allows you to save time and resource by letting a third party proactively look for threats on your behalf. You'll also benefit from no dedicated hardware or support contracts to manage and access to a wider variety of threat intelligence.
EDR software combines traditional AV tools with more advanced endpoint controls such as USB device blocking, content control and ransomware protection. However, EDR solutions also have the added benefit of being able to proactively respond to cyber threats, for example, remotely isolating a compromised device from the rest of the network.
All organisations should use some form of endpoint protection software, regardless of whether you have an internal security team. While EDR solutions still have all the features of endpoint protection to reactively defend against cyber threats, they can also help to quickly respond to indicators of attack (IOAs).
EDR tools are still worth using without a dedicated security team, as your business will benefit from all of the device protection features. However, a security team can use telemetry from an EDR platform to contextualise a security event and take responsive action where required, such as remotely isolating an affected device.
If you don't have a dedicated security team in-house you can outsource the management of EDR software to a third party. A Managed Detection and Response (MDR) service will include EDR tools so that your chosen vendor can actively respond to threats on your behalf.