24/7 threat detection with Managed SIEM
Deploy anywhere
Collect security logs from any source, including endpoints, applications and cloud systems.
Uncover threats
Never miss a security risk with experienced SOC analysts monitoring your network 24/7.
Prevent breaches
Quickly respond to threats with clear, step-by-step remediation advice.
Stay compliant
Meet the requirements of PCI DSS, ISO 27001 and more with proactive SIEM log monitoring.
---
Real-time SIEM log monitoring
Log-based monitoring collects security data from your whole environment for total visibility
Experienced SOC analysts monitor your network 24/7 for security threats so you don't have to
Proactive threat hunting uncovers hidden threats and stops attacks before they happen
Automatic alert prioritisation to save you time and highlight critical threats
Actionable advice with step-by-step guidance for faster remediations
Rapid time-to-value with fast deployment tools and pre-defined alerts
Empowers your teams to maintain strong cyber defences and meet compliance
Managed SIEM service highlights
24/7 monitoring
Continuous SIEM monitoring for systems, networks, applications and users
Seamless integration
Ingest security logs from any device, system, cloud service or vendor
Easy to deploy
Simple and automated SIEM as a service deployment
Cloud ready
Support for Azure, AWS, GCP, Salesforce and more
Real-time intel
Uncover the latest threats with integrated threat intelligence feeds
Simple pricing
Scalable pricing that isn't based on log volumes or daily ingestion rates
Here's what our customers say about us
Protecting the world's leading brands

---
Learn more about our Managed SIEM service
SIEM onboarding made easy
See immediate security value with a simple SIEM deployment process.
Kick off
We'll work with you to build a profile of your company to help tailor our managed SIEM service to your requirements. This will include defining a list of assets, network diagrams, maintenance schedules and escalation points. We'll also provide an interactive onboarding tracker that outlines the process from start to finish, so you can keep track of progress throughout.
Implementation
When you're ready to start, we'll assist you with all aspects of the SIEM deployment process. This will include setting up log collectors for on-prem sources and making sure that any API calls are in place for cloud-based systems. Once that's done, we'll verify that everything is logging into the Defense.com SIEM platform correctly before moving into the baseline phase.
Baseline
At this point, you'll get introduced to our SOC analysts who will serve as an extension of your internal team. First, we'll monitor the activity in your environment to define what 'normal' looks like. We'll then use machine learning to tune your SIEM alerts and eliminate any false positives, ensuring that you're only getting notified about genuine security threats.
Live service
Once your environment has been baselined, our SOC team will deliver tailored alerts and flag any suspicious activity in your network, giving you actionable remediation advice for any threats. We'll continuously tune your runbooks in line with your business priorities and schedule regular service reviews to ensure that you're always getting the maximum amount of value out of your SIEM.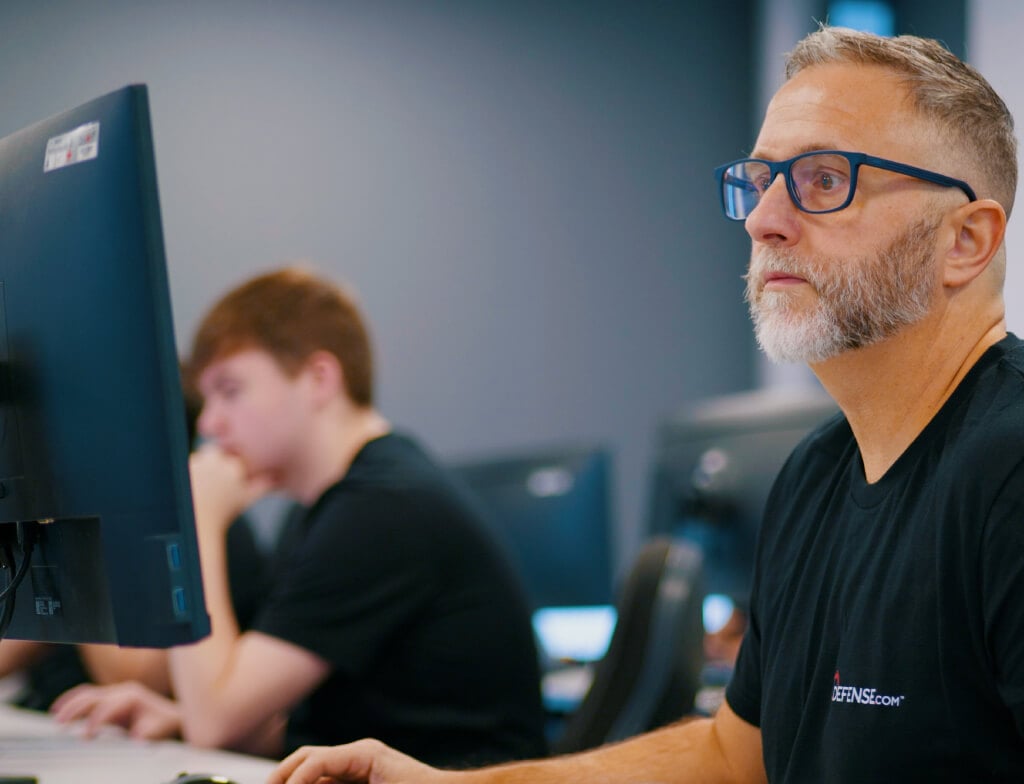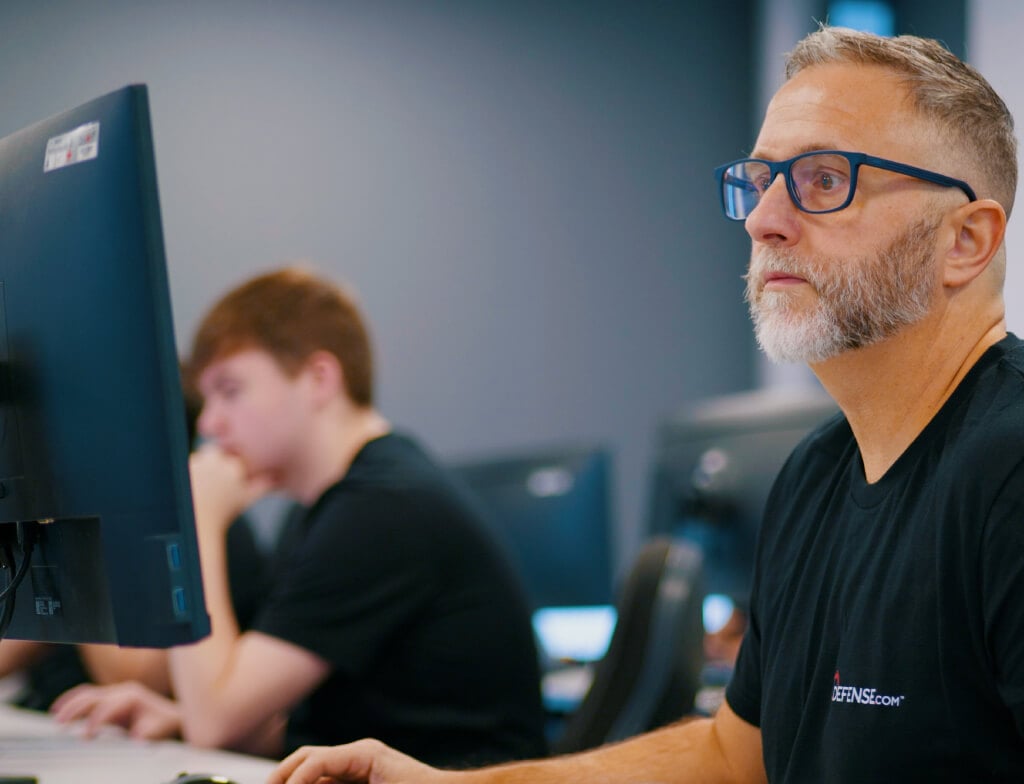 Why choose SIEM services from Defense.com?
A key component of our SIEM monitoring services is our in-house Service Operations Centre (SOC) with 24/7 coverage across the UK and US.
Our experienced analysts will become an extension of your team, proactively looking for malicious activity in your network and taking full ownership of your SIEM service.
Unlike most other solutions on the market, Defense.com delivers clear, step-by-step remediation advice whenever there is a security event so you can fix issues fast and get back to other tasks.
Managed SIEM service FAQs
A Security Information and Event Management (SIEM) solution takes log data from various sources within your network and identifies any suspicious activity. If a security event is spotted, an alert can be raised so that remedial action can be taken.
An outsourced managed SIEM solution will proactively monitor and investigate network activity on your behalf. Any security events or outcomes are escalated directly to you, instead of floods of alerts.
Choosing to outsource SIEM to a third party can be seen as the most balanced option in comparison to building your own solution or buying an off-the-shelf product.
A managed SIEM service allows you to save time and resource by letting a third party proactively look for threats on your behalf. You'll also benefit from no dedicated hardware or support contracts to manage and access to a wider variety of threat intelligence.
By using a managed SIEM solution such as Defense.com, you can combine the best of technology and human expertise for 24/7 threat monitoring.
For collecting logs within your network, we will provide you with the scripts and documentation for setting up a collector using Ubuntu, which needs to be installed on a standalone virtual or physical machine inside your network.
Once this is complete, we'll then ask you to deploy a couple of agents on your client devices (Winlogbeat & Filebeat) which will send the logs from these devices to the collector on the Ubuntu machine. Your logs will then be encrypted and sent to our Defense.com SIEM platform for processing.
For cloud environments like AWS and Azure we can usually collect logs via the provided API. Our team will work with you to ensure that you are collecting logs from all necessary areas of your environment. If we do not currently have an integration with your particular vendor or device then we will either find a workaround to bring the logs in or look to develop a custom integration.
We can ingest almost any source of log data that provides security value, regardless of the vendor or product.
This can include high-fidelity logs such as:
IDS/HIDS logs
WAF logs
Endpoint protection logs either from your existing solution or via the Defense.com agent
As well as additional low-fidelity logs that have less context on their own such as:
Firewall logs
Switch logs
Flow logs
These additional log sources help to detect attempts to laterally move to higher value assets such as Active Directory servers. This could occur when lower value assets are compromised such as workstation devices or lower criticality servers. These types of sources also provide indicators of attacks that can often not be detected using logs alone.
The more log data that we can ingest into Defense.com the more we can build a clearer picture of your environment and correlate information from different sources to drive informed decision making.
Alerts come through as a security event in your Defense.com account, which provides the details of what we have detected and answers the 'who, what, when and how'. We also create a threat connected to the security event, which provides clear remediation advice on how to address and contain what has been found.
Runbooks are used to standardise incident response processes and to ensure that the appropriate steps are taken to contain, eradicate, and recover from security incidents.
Our runbooks include the following elements:
Process overview: The steps taken to perform incident triage, incident escalation, and gives guidance on incident resolution.
Containment procedures: The steps that should be taken to contain a security incident, such as isolating affected systems, shutting down access to affected systems, and implementing other containment measures.
Eradication procedures: The steps that should be taken to eradicate a security incident, including identifying and removing malicious software, patching vulnerabilities, and implementing other remediation measures.
Recovery procedures: The steps that should be taken to recover from a security incident, including restoring systems and data, and conducting a post-incident review to identify areas for improvement.
Monitoring and detection procedures: The steps that we will be taking to detect and monitor security incidents, including configuring and maintaining our platform, and analysing log and event data.
Our SOC team assesses and prioritises all alerts and performs threat hunting and investigation in order to reduce false positives. The analyst will then either raise the security event or use it to further tune the environment. All events that are false positives are still recorded for audit purposes.
A well-documented profile is critical to our detection capabilities. We create a profile during your onboarding process and define runbooks specific to your environment to ensure that false positives are kept to a minimum. This is a standard process of our onboarding and ongoing service to reduce alert fatigue.
SIEM SOC refers to the combination of a Security Information Event Management (SIEM) platform, managed by a Security Operations Centre (SOC). A SIEM SOC service will typically involve proactively monitoring and investigating network activity on your behalf, with any security events being escalated to you directly.
Outsourcing your SIEM SOC operations to a third party helps you to make your budget go further, without compromising on security coverage. Having your SIEM monitored 24x7 by a SOC team also frees up your internal resources to focus on other tasks.
The pricing for Defense.com Managed SIEM is calculated primarily on the number of log sources you would like to cover. Unlike many other vendors, Defense.com Managed SIEM pricing isn't based on log volumes or daily ingestion rates. This keeps the pricing for your SIEM service predictable and scalable.