Test your staff and defend against attackers
Phishing Simulation in Defense.com™ helps you test if your staff can spot and avoid malicious emails.
Send or schedule fake phishing emails
Pick from a range of phishing email templates that link to a website and form
Target specific individuals or multiple users
Monitor campaign progress in real-time
View detailed reports for each campaign
If users fall for the phishing campaign this will be added as a threat in your Threat Dashboard. You can then provide additional training to help protect your organization from real phishing attacks.
Send fake phishing emails
Choose from a range of email templates that direct users to a fake landing page and data capture form.
Monitor campaign progress
Manage campaigns and access phishing email reports all in one place.
View detailed reports
See how individual users have interacted with each campaign and get a detailed event timeline.
Get actionable results
If a user falls for a phishing email, the details will be added to your Threat Dashboard so you can prioritize giving them more training.
Protect your organization
With Defense.com™ you can schedule regular phishing campaigns to:
Protect your organization from real phishing attacks
Defend against hackers
Prevent security breaches
Identify if additional staff training is required
If any of your users engage with a phishing email, you can then provide them with additional training to increase their awareness and vigilance.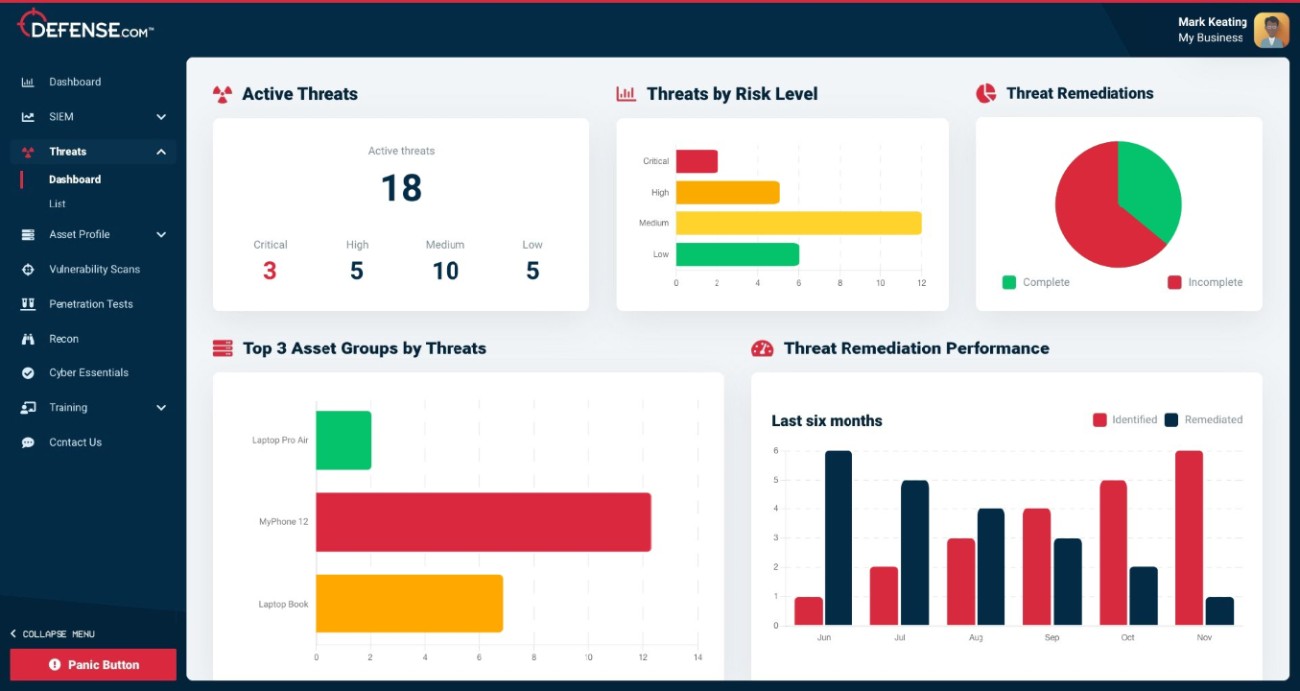 Try Defense.com™ for free
Start your free trial of Defense.com™ today to discover how Phishing Simulation can help you to keep your staff alert and defend against phishing attacks.
Here's what our customers say about us
Protecting the world's leading brands and SMBs

Frequently Asked Questions
A phishing email is a type of social engineering attack where threat actors will pretend to be a genuine company employee or supplier, with the aim of deceiving users into giving up sensitive company information such as passwords or financial information. Hackers will generally then try to use this to inflict further damage to an organization, including stealing money and data.
Phishing simulation involves sending targeted phishing emails to staff in order to test their vigilance against fake emails and see how they react. Phishing simulation campaigns should be used in conjunction with phishing training to ensure that staff learn how to spot and avoid attacks and test their knowledge regularly.
Phishing simulation tools let you send fake emails to users, including a link to a web page that asks for sensitive company or personal information. For example, this could be disguised as a password reset email, or an email from payroll. Your phishing simulation service should then provide you with detailed stats showing which users fell for the fake phishing attempt. This enables you to follow up with further training as necessary.
With Defense.com™ you can choose from a range of pre-made email templates that link to a dedicated landing page. Each landing page is branded as a fake company and contains a form that is designed to capture information. You can track if any users clicked the email or submitted data in the form, and follow up with individuals to provide further training.
Using a phishing simulation tool will help your organization to maintain strong front line defenses and prevent security breaches. Carefully constructed phishing emails can identify any weaknesses in staff training and awareness, allowing you to remediate risks before a real phishing attempt is successful.
A phishing simulation can help you achieve robust cyber resilience against phishing attacks. Hackers rely on social engineering techniques like phishing to target employees, as they present the easiest path to revealing sensitive data. Cybercriminals are also constantly developing their phishing scams to mislead employees. Phishing simulations deliver real-world scenarios where businesses can address whether employees are likely to fall victim to a phishing attack and identify areas to improve their security awareness training.