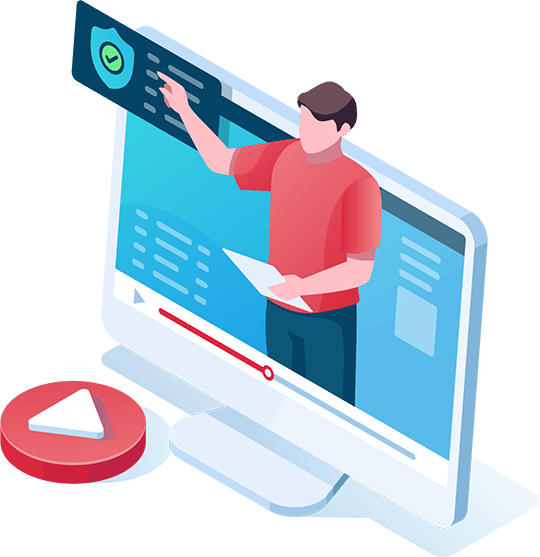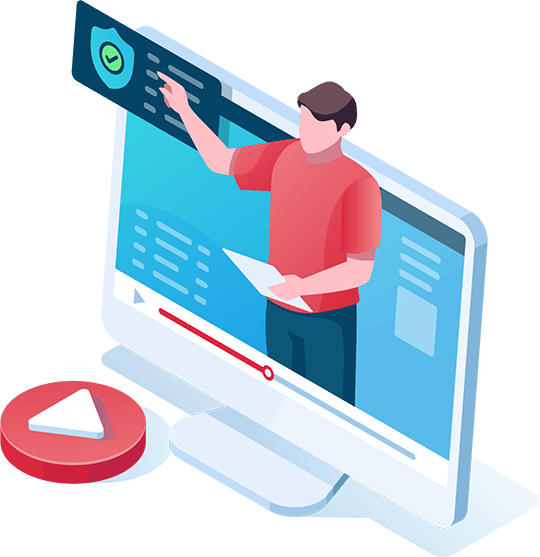 Effective training, simple delivery
Ensure that your staff are cyber aware and GDPR compliant with our cyber awareness training videos. Choose from a variety of topics to train all departments in your business from a single platform, enabling you to:
Educate your staff about common security threats and how to defend against them
Deploy training at scale across your organisation with flexible, on-demand videos
Track engagement statistics on a per-user level
Verify knowledge retention with exams
Support your compliance requirements for ISO 27001, the GDPR and more
With Defense.com™ you can also prove the effectiveness of your cyber awareness training by using our built-in Phishing Simulator.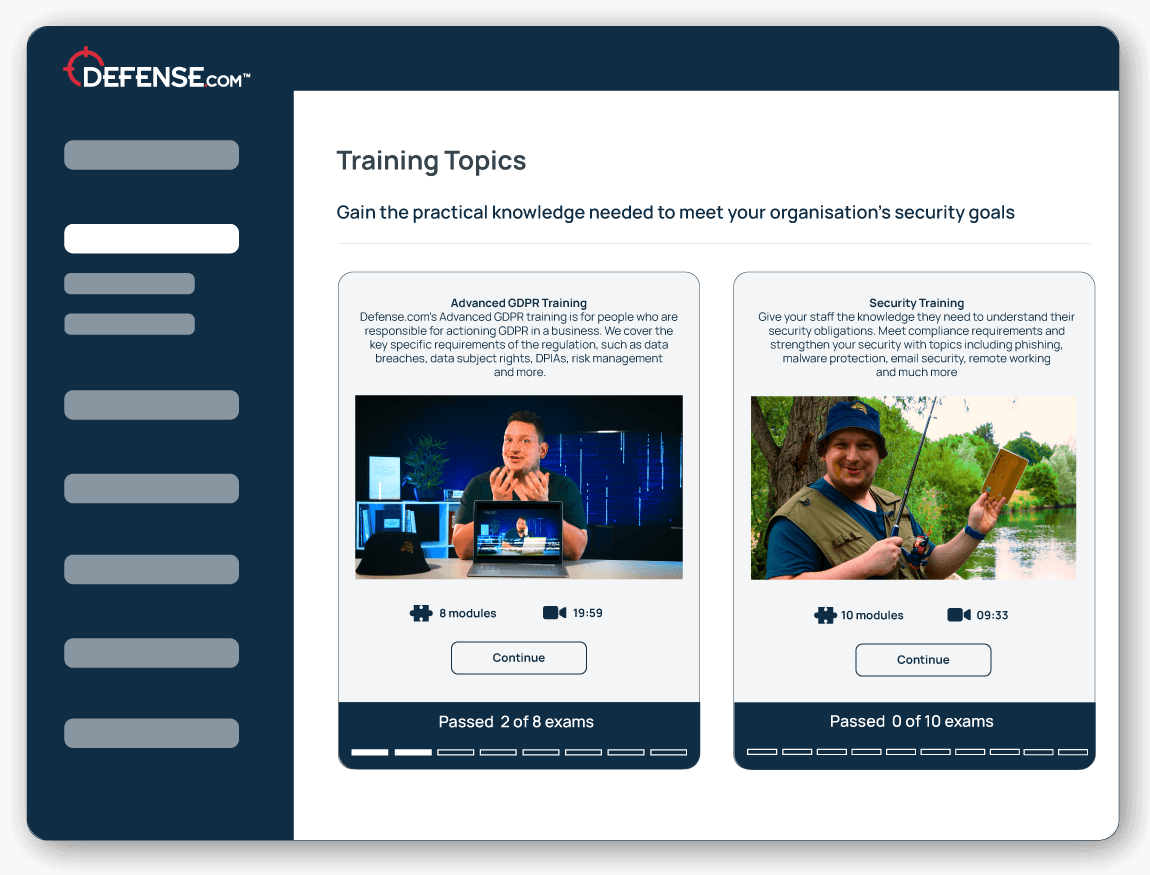 Train your staff, protect your business
Prevent data breaches and maintain compliance with our unique training content. Educate your staff and board members about GDPR and cyber security topics, with new content added regularly.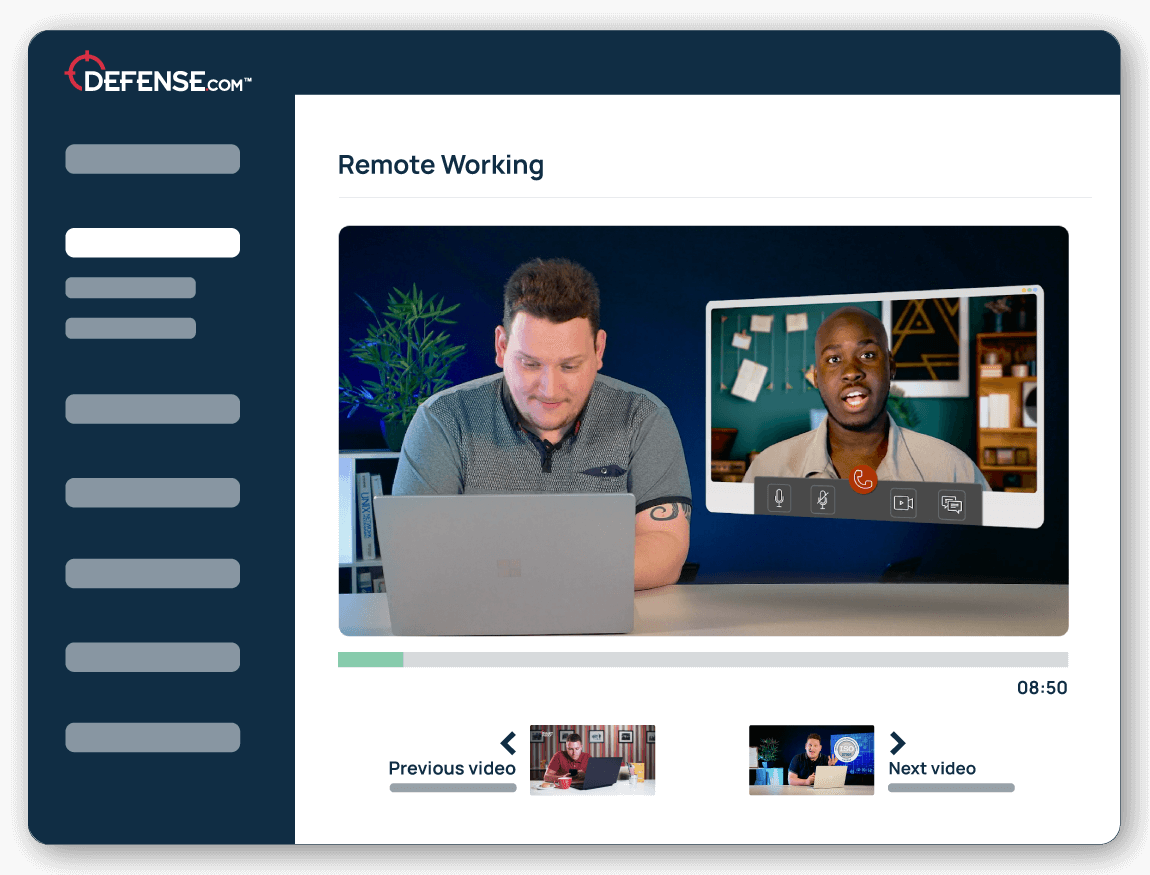 Engaging videos, made by experts
Our training videos are made by a team of in-house cyber security experts, content specialists and video producers. This means they're always engaging and full of the information your staff need to know.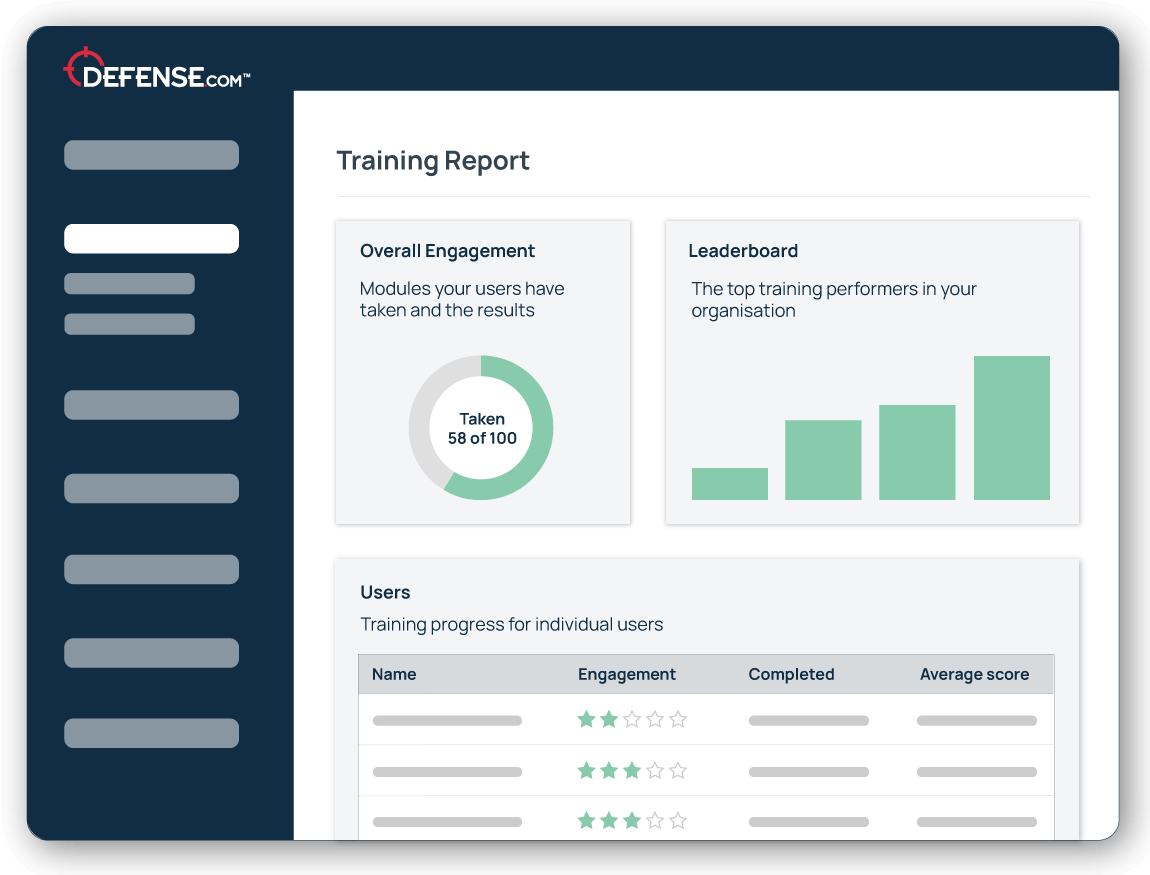 Flexible, on-demand learning
Our security awareness training is as flexible as it is engaging. Effortlessly train your entire workforce and monitor engagement statistics, no matter where they are in the world.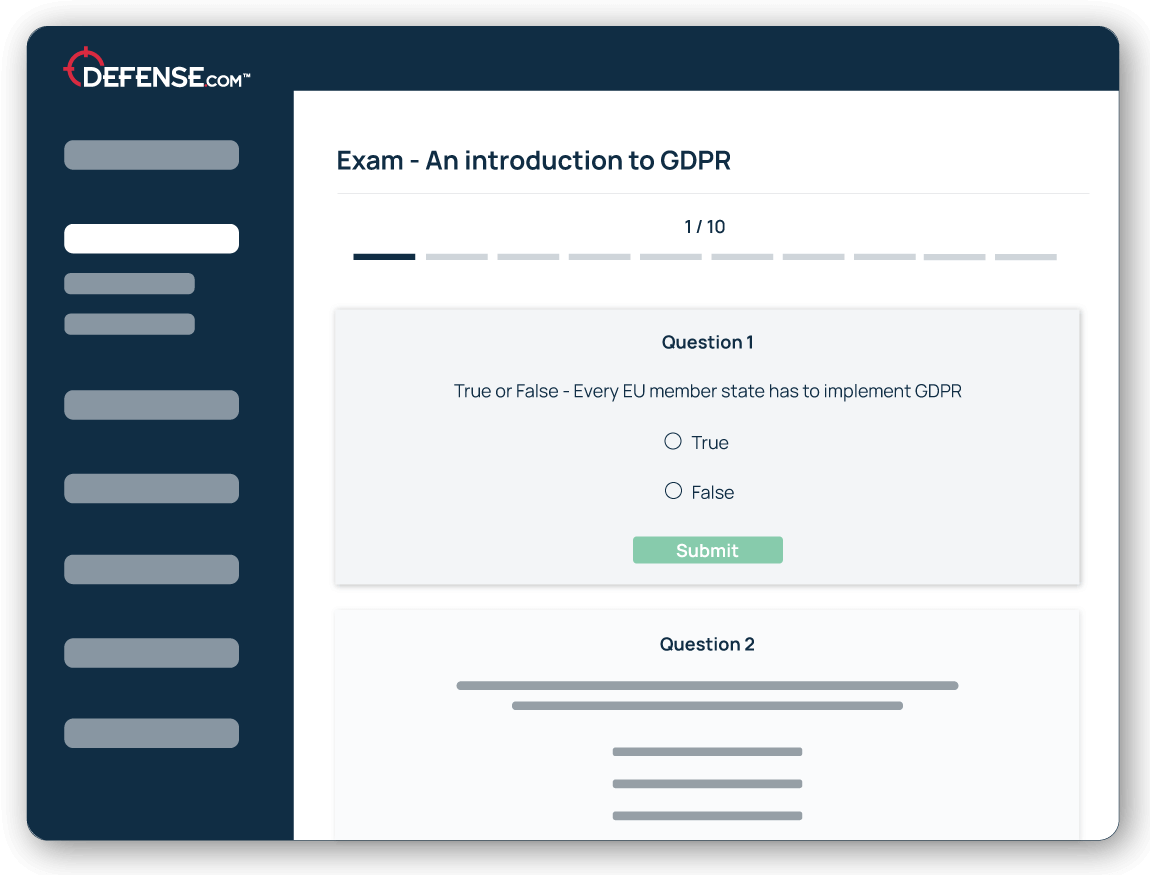 Increase knowledge retention
Each training video comes with a set of cleverly crafted exam questions to test and verify your staff, so you can be sure that they have understood the topic and are security aware.
Turn your workforce into a frontline cyber defence
Your staff can be your biggest cyber threat, but with Defense.com™'s cyber security awareness training, you can turn them into your biggest cyber strength.
Training is an essential component of many common compliance standards, and a security-aware workforce can stop a vast array of cyber attacks at the earliest stages.
With Defense.com™ you can:
Educate your staff about common cyber threats
Understand hacker's tactics and tricks
Defend against cyber attacks
Reduce data breaches
Meet compliance requirements
Turn your staff into a security asset
Increase awareness of cyber security and data protection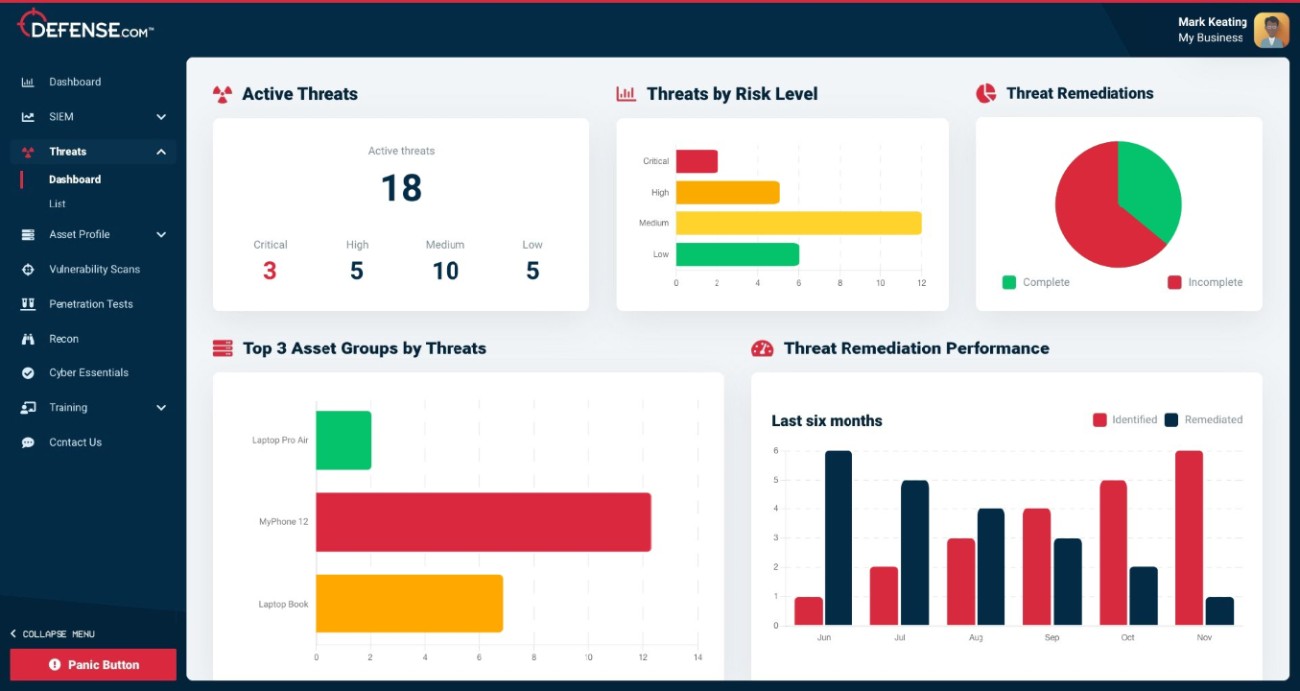 Try Defense.com
™

for free

See the videos for yourself and explore a range of effective security tools with a free trial of Defense.com™. Track your threats, prioritise your remediations and more from the all-in-one cyber security platform.
Here's what our customers say about us
Protecting the world's leading brands
Frequently Asked Questions
Cyber security awareness training is where your employees are educated about all things cyber security. For cyber video training to be effective, the content must make individual staff members understand their own security obligations, be engaging and memorable, and harmonise with your organisation's security objectives. Cyber security awareness training can take many forms, be it seminar-style training presentations, group tabletop exercises, or flexible video-based training regimes.
The best way to become cyber security aware is through a training scheme. Defense.com™'s engaging security training videos are easy to deliver and cover all the security essentials that your business needs to have a cyber security aware workforce.
Good cyber security training should include the basics of cyber security (such as passwords, safe browsing etc), with additional topics that cover more in-depth topics where appropriate. Crucially, the best cyber awareness training should make employees understand the reasons behind the rules, so they can go about their work with security in mind.
Cyber security awareness training is included in all Defense.com™ packages, which start at just £25 per month for 5 users.
The GDPR mandates every organisation follow data privacy best practices, which includes training for all staff. Defense.com™'s video training covers all the GDPR basics and includes advanced GDPR topics for those staff members who are responsible for GDPR within your business.
Like many compliance standards, ISO 27001 sets out to install a culture of good security that spans an entire company's workforce. Information and cyber security training is an integral part of these best practices, making Defense.com™'s engaging cyber video training a great fit for ISO 27001 compliance.
Best practices for both information/cyber security and the GDPR recommend that all staff are trained annually, and for that training to be kept up to date with the latest developments in security and data privacy. That's why Defense.com™'s video training for both cyber security and data privacy refreshes every year.